NEWS
Summer School 2023 was held
Tohoku University Chemistry Summer School 2023 was held on August 7, 8, and 9, 2023, organized by GP-Chem, and planned and managed by GP-Chem students.
After a period of cancellation and online holding due to the coronavirus pandemic, the 2023 Summer School was held face-to-face for the first time in four years. This year, 212 participants, including 9 overseas graduate students invited from Europe, America, and Asian countries, also from faculty members and students from the Graduate School of Science and other chemistry-related laboratories of Tohoku University participated in the Summer School.
In addition to two keynote lectures, the summer school featured 19 oral presentations by students, including graduate students from overseas, and 98 poster sessions by students, each of which featured lectures and presentations of research results in cutting-edge chemistry fields and lively discussions.
This summer school was a cross-disciplinary symposium with "All Chemistry" as its keyword, and graduate students from abroad and from chemistry-related laboratories in Tohoku University participated in the symposium across departments.
It was a valuable opportunity to deepen interdepartmental and international exchange through presentations and discussions at the summer school.
This summer school was also co-sponsored by Case Western Reserve University, and Case Western Reserve University students also gave poster presentations.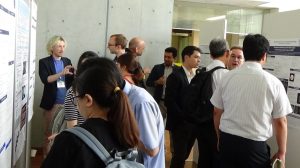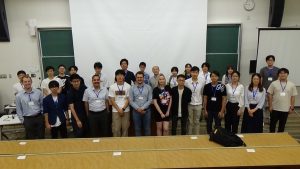 Website
http://gpchem.sakura.ne.jp/SummerSchool2023/2023TOP.htm