NEWS
Kickoff Symposium was held
The kickoff symposium of the Tohoku University International Joint Graduate Program in Integrated Chemistry (GP-Chem) was held on September 6th (Wednesday) and 7th (Thursday), 2023, in the main lecture hall of the Graduate School of Science at Tohoku University. Over 160 faculty members and graduate students from chemistry laboratories both overseas and within Tohoku University, took part in the event, transcending departmental boundaries.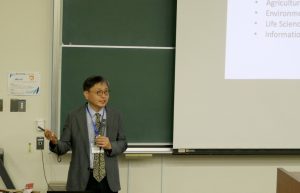 Opening Remarks by Yujiro Hayashi, GP-Chem Program Leader.
The opening address by Professor Yujiro Hayashi, the leader of the GP-Chem program in the Graduate School of Science, set the stage for a series of lectures delivered by 12 chemistry faculty members from Tohoku University and 9 internationally renowned researchers leading various fields of chemistry. The lectures covered a wide range of topics, including organic chemistry and coordination chemistry with a focus on molecular synthesis, materials science related to solar power generation and batteries, as well as chemical biology encompassing areas like bioimaging. Each speaker not only presented their research findings but also provided clear insights into the current trends and future prospects of their respective fields. This facilitated lively interdisciplinary discussions, with active participation from GP-Chem students who posed thoughtful questions.
During social events and gatherings, attendees engaged in valuable cross-disciplinary exchanges that are often challenging to achieve at specialized conferences. Participants from abroad expressed their support for GP-Chem's mission to promote the advancement of research and education that integrates diverse fields of chemistry.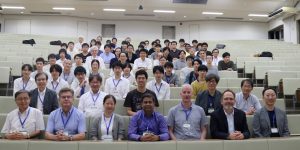 Group Photo of the GP-Chem Kickoff Symposium (Sep. 7th).
Furthermore, GP-Chem co-hosted and participated in "the Joint Meeting 2023 of the Tohoku Area Chemistry Societies and the International Symposium for the 80th Anniversary of the Tohoku Branch of the Chemical Society of Japan," which was held by the Chemical Society of Japan Tohoku Branch from September 8th (Friday) to 10th (Sunday). This event provided another opportunity for collaboration with internationally invited researchers. Among the nine GP-Chem foreign-invited researchers, four were invited as special speakers on September 9th at Hagi Hall, which underlined the objectives and presence of GP-Chem both domestically and internationally. GP-Chem's interdisciplinary symposiums have proven to be valuable occasions for enhancing collaboration between departments and fostering international exchanges, as exemplified above. While this year's symposium served as the kickoff event, we plan to continue hosting interdisciplinary symposiums in the coming years.
Kickoff Symposium Program Details: Please visit the Integrated Chemistry International Joint Graduate Program's website.